Version control#
Version control is managing changes to your analysis over time. In this chapter, we primarily discuss the benefits of using the Git version control system .
Pre-requisites
To get the most benefit from this section, you should have a basic understanding of how to use Git. Many of the examples used in this section refer to the command-line interface for Git, so general command-line knowledge may also help.
You can find links to relevant training in the Learning resources section of the book.
Why version control?#
As we discussed in Principles, an audit trail is essential for assuring quality analysis. It's important for us to be able to answer the following questions about our analysis:
What changes have been made to our project?

When were those changes made?

Why were those changes made?

Who made those changes?
Version control software, like Git, records the answers to these questions throughout the development of a project. We can detail our development decisions alongside changes, using commit messages and Pull or Merge Requests. In turn, this keeps our analysis workspace clean of commented-out old code and numerous files containing previous versions.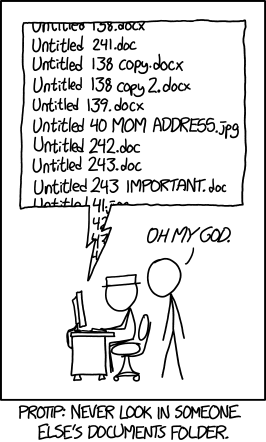 When used effectively, version control helps us to identify which changes have negatively impacted our work and remove them. Furthermore, a detailed audit trail allows us to refer to specific versions of our code that have been used to produce outputs, which is important for reproducing our analysis.
Git is invaluable when recording and combining changes from multiple developers, as merging allows us to resolve conflicts between overlapping changes. Using a remote Git repository maintains a single source of truth, even when multiple individuals are working on a project. Additionally, version control platforms, like GitHub and GitLab, can make it easier to track and review ongoing work. This avoids duplication of effort and keeps review embedded in the development workflow.
What should I version control?#
Ideally, you should include any code that is required to run your analysis. In a public repository, you may need to omit confidential or sensitive aspects of the project.
Caution
You should not include the following in your code repository:
passwords, credentials or keys

configuration files that are environment-dependent (e.g. containing file paths)

code that contains sensitive information

for example, code that describes a method for fraud detection

or code that contains references to personally identifiable data

or code that might compromise security protocols

data, except for small example datasets
See Avoid commiting sensitive information to Git repositories for details on how to mitigate the risk of including sensitive information in a Git repository.
You might also want to include example (configuration)[configuration.md] files, to help users trying to run your code understand what parameters need to be set. However, note that sometimes configuration files contain sensitive data or credentials, which should not be commited to version control. In this case, example configuration files should contain clear dummy values that are indicative of the expected values to be filled in.
It is again worth stressing the importance of not committing sensitive, unpublished or disclosive data to your Git history. If you would like to include an example for end-users, a minimal dummy dataset can be committed to the repository. However, dummy datasets following the same layout can disclose the types of variables in the real data. As such, you should consider the inclusion of this data with caution, particularly for repositories intended to be hosted publicly.
Git#
Git is a distributed version control system. This means that all users have access to a complete and self-contained history of changes to a given project. The software can be used to record local changes, with the option of then synchronising these changes with a central, remote repository. Remote repositories are typically hosted on a platform like GitHub or GitLab.
The following sections describe useful concepts for using Git to version control your analysis. We use examples of Git commands throughout, but do not provide detailed descriptions of Git usage. If you are not familiar with using command line tools, or Git specifically, you should first look into introductory training.
Avoid commiting sensitive information to Git repositories#
Code itself is very rarely sensitive, so we should be open to sharing it. However, analysts may be required to use sensitive information in their analysis. This might be in the form of credentials, used to access a service, or data that contains personally identifiable information.
In these cases, we need to minimise the risk of inadvertently sharing this information with our code. This subsection suggests how you might mitigate this risk in your analysis.
In the case of passwords or credentials that are used in your code, you should ensure that these are stored in environment variables and are not written directly into code. This includes in the early stages of development, as your version control history will retain copies of these.
GitHub#
A number of version control platforms extend the functionality of Git, to further improve collaborative working.
Here we describe some of the beneficial features supported by GitHub, the world's leading software development platform. GitHub provides additional tools for better management of collaborative work. Many of these tools are also discussed in detail on the GitHub features page, but we will describe how they may be applied in analytical workflows here.